Dodge Releases 2021 Durango Mopar Limited Edition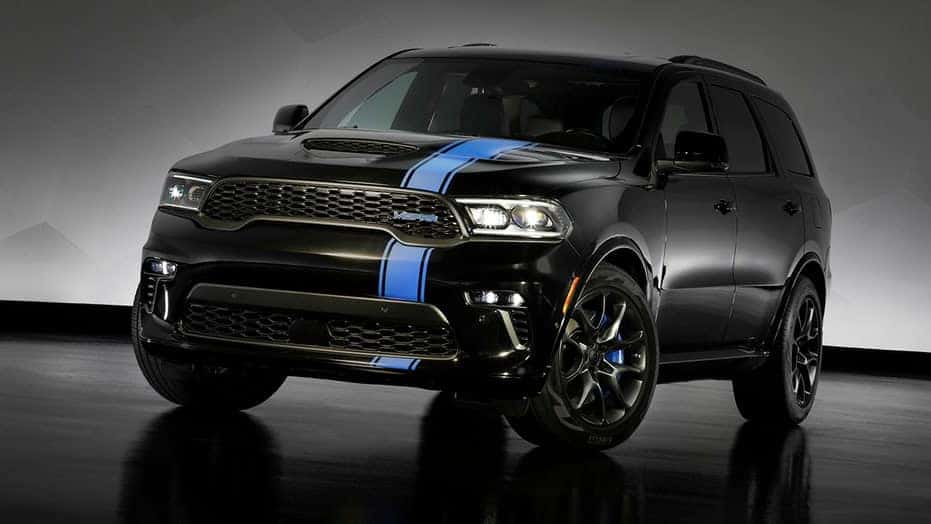 Photo credit: Dodge
Dodge is celebrating the 85th anniversary of its partnership with the well-known Mopar parts division. Dodge debuted a limited edition 2022 Durango that will carry a wide range of Mopar upgrades showing off the Mopar blue and black colors. The three-row SUV is based on the 2022 Dodge Durango R/T AWD with the optional Tow N Go package. Mopar does what it does best packing the 2022 Durango with its latest upgrades and badging within the popular SUV and on the outside. In addition, the SUV gets numbered build plates for the dashboard certifying as one of the limited units made of the Mopar edition that will easily be identified with the Blue strip that starts at the back bumper and ends at the front of the hood.  
The 2022 Dodge Durango  Mopar Edition will only build 200 units across the nation, meaning the lucky buyers will have to battle to get theirs reserved. The 200 units built for the U.S market will come in either black or white paint and Dodge will send an additional 50 units to our neighbor Canada. Dodge has announced the Mopar Package will go on sale early next year with a set price of $3,995. The Mopar Package will feature black 20-inch wheels, a one-inch lowering kit, blue Mopar-branded calipers, an adaptive suspension system, limited-slip differential, retuned exhaust, and even a 145 mph top speed limiter. It doesn't stop there, Mopar includes a black griller with blue Mopar badging, and suede interior seats with the Mopar logo in the center paired blue stitching. 
The 2022 Dodge Durango will carry 3.6-liter V6 engine under the hood as standard on all trims, but buyers looking for an upgrade will have the option of swapping to a 5.7-liter or 6.4-liter Hemi V8. Since Dodge is getting rid of its SRT HELLCAT trim, the 707-horsepower Supercharged V8 won't be available. This leaves the 6.4-liter engine as the star of the lineup. The 2022 Dodge Durango SRT 392 is set to remain the most expensive trim with an estimated MSRP of $64,000 (Plus destination fee) and any add-ons. While that might be considered a little pricey, it's a huge price reduction from the famous 2021 Durango SRT HELLCAT at an MSRP of $80,000 (Plus destination fee). Interested buyers will be happy to know that the entry-level Durango SXT with the 3.6-liter V6 rear-wheel-drive will continue to start at an MSRP of $34,000 (Plus destination fee). Interested in finding out more information?
Come To Southern Chrysler Jeep Dodge Ram To Test-Drive A New Dodge Today!
Are you excited about getting a new car? So are we! At Southern Norfolk Chrysler Jeep Dodge, we're more than excited to help our customers, we're thrilled. Looking for a new option to buy or lease? Take a look at our newest vehicle inventory or our quality used inventory. We can help sell your current vehicle or bring it back to life like new with an online appointment at our service center. Allow our professional techs to get started on all repairs or maintenance work.
Looking for options with any financial help, needs, or suggestions to help make paying for a vehicle easier? Apply for Auto financing. Stop by today and see what we can do for you at Southern Norfolk Chrysler Jeep Dodge right now.