2021 Dodge Durango SRT Hellcat Will Roll Into Production Once Again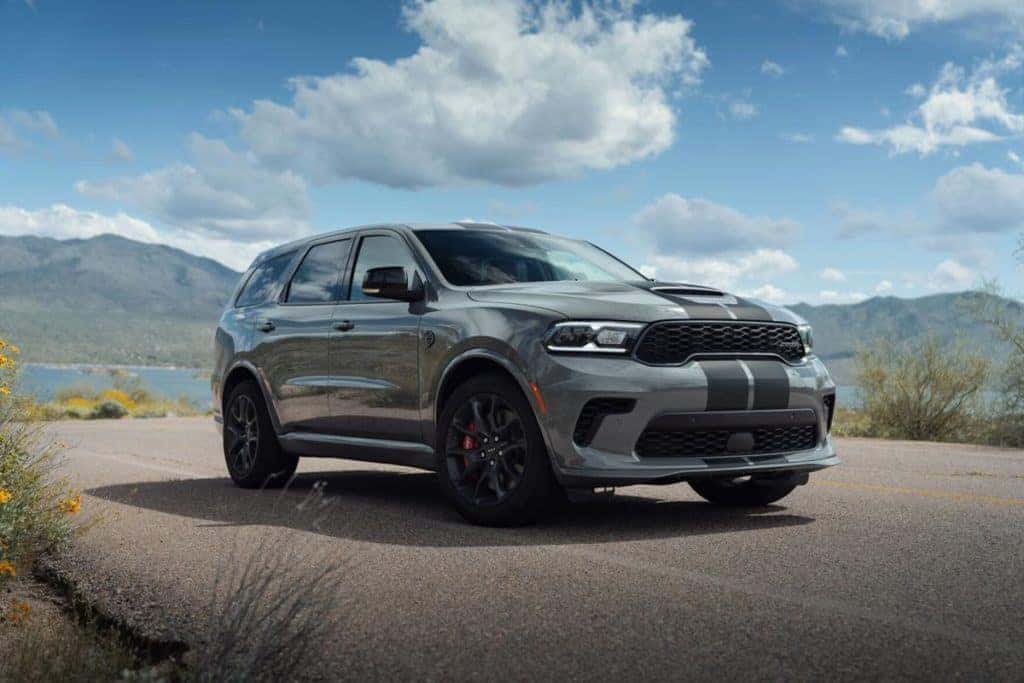 Photo credit: Dodge
The 2021 Dodge Durango SRT Hellcat is one of the most anticipated full-size SUVs ever, classified as the world's most powerful SUV with outrageous horsepower. Underneath the aggressive vented hood is a supercharged 6.2-liter V8 that summons 710 horsepower. The immense power is delivered through all four wheels, with a press of the gas pedal drivers can instantly feel the powerful thrill of the earth-shattering power of the 2021 Dodge Durango SRT Hellcat. Dodge originally stated that only 2,000 units of the 2021 Dodge Durango SRT Hellcat would be manufactured in 2021, unfortunately, all those units were all accounted for due to pre-orders being completely booked back in November 2020. Dodge sold out in the first three months, and dealers have found themselves with more than 2,500 interested customers. Now, Dodge will bring the 2021 Dodge Durango SRT Hellcat back into production to fulfill new orders and unleash the monster for potential buyers.        
A Legend in The Making
"Any time you launch a limited-production vehicle and plan to build fewer units than the number of dealers across the country, you risk leaving a lot of customers very unhappy. As we finalized the production plan for this amazing SUV, we found a way to move some Hellcats from other vehicles to ensure every 'sold order' in our systems will get built. We didn't want to disappoint these customers and wanted to find a way to ensure they are part of the Brotherhood of Muscle." said brand director Bob Broderdorf
When To Expect Orders Completed
Although the orders have been sold out, Dodge has decided to start producing more of the highly anticipated 2021 Dodge Durango SRT Hellcat. Dodge has shifted its parts supply channels to send extra Hellcat parts to the Durango assembly line. The new 2021 Durango SRT Hellcat is set to be manufactured this summer in June 2021, we're expecting Dodge will announce a final number when production starts to know how exclusive the vehicle will be. Unfortunately, the Hellcat-powered Durango doesn't get along with the emissions statutes listed to come into effect nationally for the 2022 model year, so Dodge shouldn't be making too many units. Enthusiasts can only hope that Dodge will manufacture enough units to satisfy all potential buyers.  
Breaking Down the 2021 Dodge Durango SRT Hellcat
The 2021 Dodge Durango SRT Hellcat obviously blows every SUV off the map with its aggressive front fascia, strong exterior lines, and its roaring engine that shakes the ground as it accelerates down the road. Spectacular performance figures are made possible by the supercharged 6.2-liter HEMI Hellcat V-8. Mated to this all-conquering V8 is an eight-speed TorqueFlite automatic transmission powering all four wheels, capable of producing 710 horsepower and 645 lb-ft of torque, that power sets the Durango to best-in-class towing capacity across its lineup being able to tow up to 8,700 lbs. The 2021 Durango SRT Hellcat is capable of accelerating from 0 to 60 miles per hour in just 3.5 seconds, covering the quarter-mile in 11.5 seconds as certified by the National Hot Rod Association (NHRA), and hits a top speed of 180 mph. These record-high numbers set the 2021 Durango SRT Hellcat into its own league aside from all other SUVs on the market. Ready to drive a brand new Dodge?  
Come To Southern Chrysler Jeep Dodge of Norfolk To Test-Drive a New Dodge Today!
We're all about helping our customers enjoy their shopping experience. We have a friendly and passionate sales team that will make your buying, leasing or selling needs easy for any of our newest vehicle inventory or used inventory. We're here to help with any financial help, needs, or suggestions to help make paying for a vehicle easier. Apply for Auto financing with our assistance right now. Stop by today and see what we can do for you right now.
Don't forget we have a trained service team that can help with an online appointment to get started on all maintenance work and repairs. We look forward to helping you at Southern Norfolk Chrysler Jeep Dodge.