Ram 1500 TRX 6×6 Warlord Is An Absolute Monster Ready To Take on Any Challenge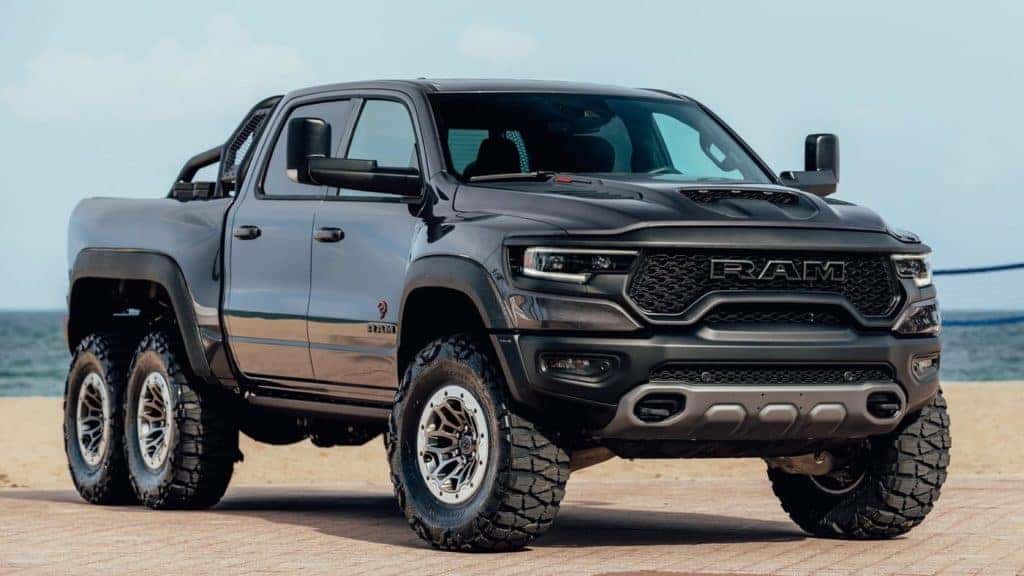 Photo credit: Ram
Ram has been known for manufacturing the fastest, most powerful, and agile truck ever in the world. The truck is capable of producing an incredible 702 horsepower and 650 lb-ft of torque. The 2021 Ram 1500 TRX is an impressive and intimidating machine, with its aggressive front grille and large body frame. Packed with all the available add-ons ram has to offer including a 5'7" bed,4WD, and 18-inch wheels with monstrous 35-inch tires. Now, Apocalypse Manufacturing has revealed the Warlord. A 6×6 version of the 2021 Ram 1500 TRX, adding a whole new level to the monstrous truck.  
The Warlord remains the same under the hood, keeping Ram's complete structure untouched, performance doesn't get any better than the 2021 Ram 1500 TRX. The Warlord adds an Apocalypse-designed middle axle with a custom rear made from 0.25-inch thick steel. All six wheels(plus a bed-mounted spare) measure 18-inches, with 37-inch mud-terrain tires. Also offering available upgrades including 40-inch tires, LED underbody lighting, and even thermal night vision. The Florida-based company also offers other vehicles they have created into epic 6×6 vehicles that stand out on the road. It's clear to see why the Warlord is ready for just about anything that comes in its path.
The 2021 Ram 1500 TRX is one of a kind, reigning king for pickup trucks when it comes to horsepower and aggressiveness. In between the bulging fenders under its iconic scooped hood is a supercharged 6.2-liter HEMI V-8 engine, capable of firing 0-60 in just 3.7 seconds. The tuck runs completed the quarter-mile in 12.3 seconds hitting a speed of 110 mph, making it the quickest truck to ever exist. Inside the 2021 Ram 1500 TRX buyers can enjoy a 12.0-inch touchscreen infotainment system. The unit includes Apple CarPlay, Android Auto, built-in navigation, and SiriusXM satellite radio. The display can be divided into separate menus so drivers can have multiple applications opened at once. The available Harman Kardon sound system will step up the audio to a mighty 900-watt, 19 speaker system. Interested in driving a 2021 Ram 1500 TRX?        
Come To Southern Chrysler Jeep Dodge Ram To Test-Drive A New Ram Today!
Are you excited about getting a new car? So are we! At Southern Norfolk Chrysler Jeep Dodge, we're more than excited to help our customers, we're thrilled. Looking for a new option to buy or lease? Take a look at our newest vehicle inventory or our quality used inventory. We can help sell your current vehicle or bring it back to life like new with an online appointment at our service center. Allow our professional techs to get started on all repairs or maintenance work. 
Looking for options with any financial help, needs, or suggestions to help make paying for a vehicle easier? Apply for Auto financing. Stop by today and see what we can do for you at Southern Norfolk Chrysler Jeep Dodge right now.