The First Manufactured Ram 1500 TRX Sold For $410K At Auction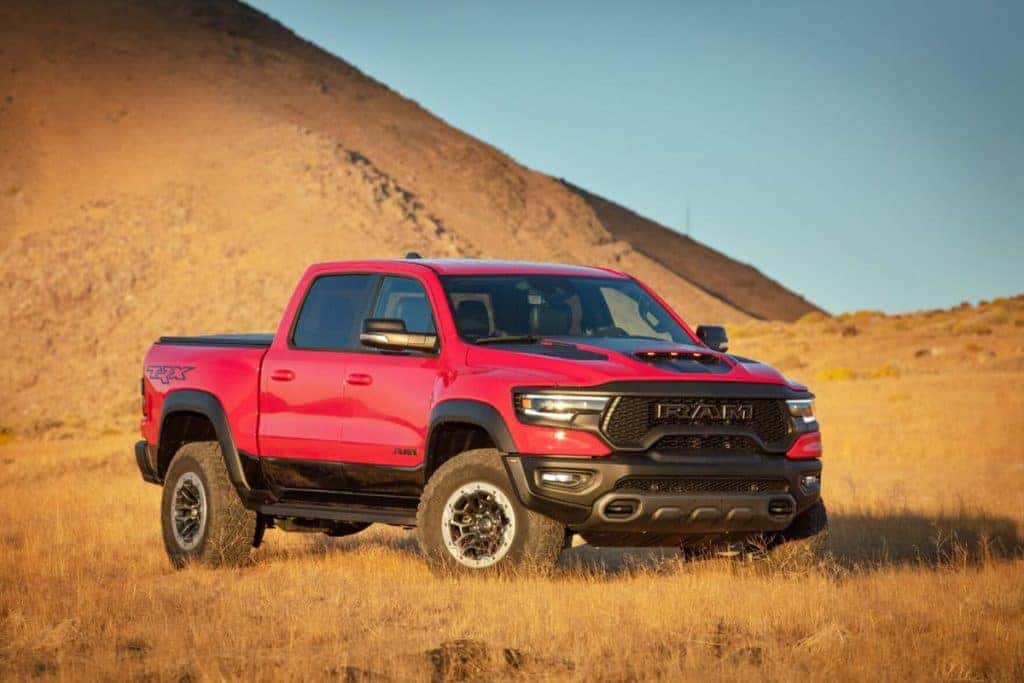 Photo credit: Ram
Ever heard about the 2021 Ram 1500 TRX Rebel? This pickup is the fastest, most powerful, and agile truck currently produced in the world. The first 2021 Ram 1500 with the VIN 001 rolled off the assembly line with an immense 702 horsepower and wound up being auctioned at Barrett-Jackson Scottsdale in Arizona. Ram only manufactured 702 units of the limited 2021 Ram 1500 TRX Launch Editions, and all sold out in under three hours. So, what would the first Ram cost among those? While there are plenty of new 2021 Ram 1500 TRX pickups available today, there can only be one official owner of the first one ever made. 
Breaking Down the Rarity of the First-Ever Ram 1500 TRX Rebel
All 2021 Ram TRX Launch Edition trims come with all of the innovative technology available and perks of a top-level truck. Let's take a look at what enthusiasts were willing to pay in order to become part of Ram's long history.        
"When Ram 1500 TRX VIN 001 rolled off the assembly line, it instantly became an incredibly exciting one-of-a-kind collectible truck, and that was reflected by the winning bid. More importantly, we're thrilled that the first Ram 1500 TRX raised significant funds that will go directly to the United Way for Southeast Michigan's 2-1-1 helpline to provide services to veterans and their families. Ram continues to honor all of those who serve or have served in the United States armed forces with distinction through our 'Built to Serve' editions. For Ram truck owners, whether military or civilian, 'Built to Serve' is a maxim that they can be proud to stand behind. This auction is another way we can honor our veterans by supporting them when they come home." said Mike Koval Jr., Ram Brand Chief Executive Officer – Stellantis
First-Ever TRX Sold For AN Amazing Cause
 Ram is more than an automaker, the pickup maker donates to various different charities from disaster relief to blood drives, and continues to provide a helping hand as often as it can. The honor of owning a Ram with the VIN number reading "001" is quite impressive, but the price may be the same as a house in more than half the country. The Barrett Jackson Auction company sold the first 2021 Ram TRX Launch edition for a charity in collaboration with Ram and Mopar. The total price was Sold for a mega $410,000 and all of the proceeds will go to the United Way of Southeastern Michigan's 2-1-1 helpline. The charity keeps its focus on helping veterans who have served our country, providing various tasks and outreach programs for both veterans and families.         
More On the 2021 Ram 1500 TRX Launch Edition
The 2021 Ram 1500 TRX Launch Edition trim is offered with all of the extras buyers are looking for in a monstrous truck like this. The 2021 Ram 1500 TRX Launch Edition is coupled with the TRX Level 2 Equipment Group, adding carbon-fiber interior trim, color accent package,19-speaker Harman Kardon premium sound system that will make it seem like passengers are front row at a concert listening to their favorite artist. Also coming with a dual-pane panoramic sunroof, advanced safety group, hood, and body side graphics standard makes the 2021 TRX one of a kind. Additionally, Ram 1500 TRX VIN 001 includes other optional equipment, such as RamBar by Mopar, rock rails by Mopar, bed-mounted tire carrier by Mopar, Trailer Tow Group, and Trailer Reverse Steering Control. It's clear to see why the price tag is a bit higher, but regardless any lucky person would love to be a proud owner of one of these. Interested in driving a Ram truck? Check out all of our inventory at Southern Chrysler Jeep Ram Dodge. 
Come To Southern Chrysler Jeep Dodge To Test-Drive New Dodge Today!
Are you excited about getting a new car? So are we! At Southern Norfolk Chrysler Jeep Dodge, we're more than excited to help our customers, we're thrilled. Looking for a new option to buy or lease? Take a look at our newest vehicle inventory or our quality used inventory. We can help sell your current vehicle or bring it back to life like new with an online appointment at our service center. Allow our professional techs to get started on all repairs or maintenance work. 
Looking for options with any financial help, needs, or suggestions to help make paying for a vehicle easier?
Apply for Auto financing
. Stop by today and see what we can do for you at
Southern Norfolk Chrysler Jeep Dodge
right now.