Dodge Announces Its First " Chief Donut Maker"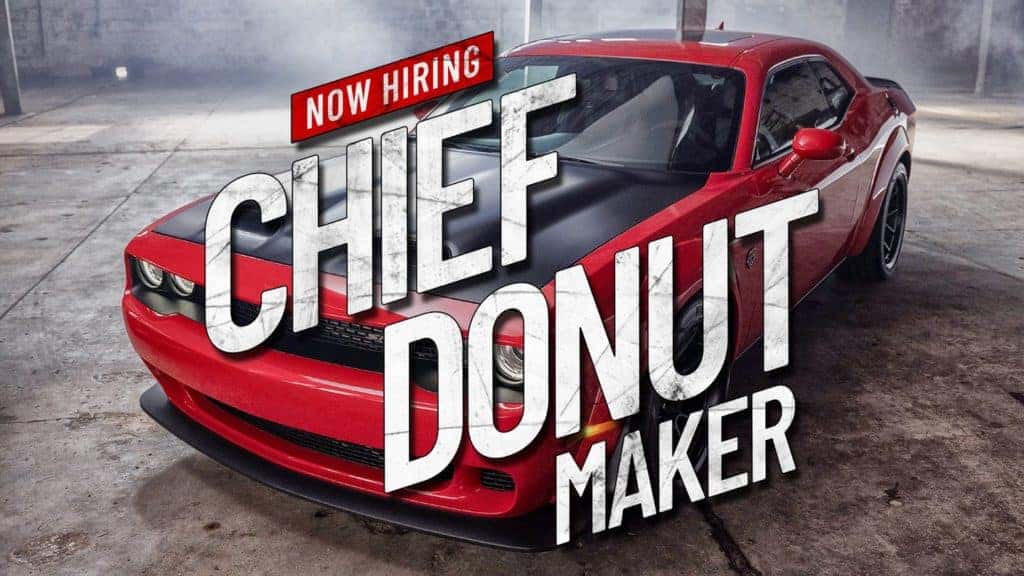 Photo credit: Dodge 
Dodge has been searching across the United States for the greatest automotive job known as the Chief Donut Maker. Dodge crowned its first Chief Donut Maker, and his name is Preston Patterson. He will be the first Dodge ambassador of its kind. Patterson will represent Dodge and share the evolutionary journey into the future of electrified muscle from a fan's perspective. Preston Patterson filled the greatest automotive job in the world, and it all started in January where he was able to beat 173,500 applicants. Patterson proved to have the character and driving skills necessary for the high-stakes challenges. The new Chief Donut Maker needs to possess the knowledge, character, and drive to represent the Brotherhood of Muscle.
"After a nearly four-month search for our chief donut maker, we were blown away by our 10 finalists, and how each uniquely embodied the very best of the Dodge brand," said Dodge CEO Tim Kuniskis.
The Chief Donut Maker competition started with applications back in January 2022. The participants submitted a short video and then ten finalists were flown out to Radford Racing School for a series of challenges and eliminations for a web series. Preston Patterson earned $150,000, and received keys to a Dodge Challenger SRT Hellcat, and will have access to all the auto industry's biggest events in exchange for a one-year commitment as an ambassador for Dodge.
"To go from a kid who had a poster of a Dodge Viper on my bedroom wall to being handed the keys to a Dodge Challenger Hellcat as my company car is beyond my wildest dreams," said Patterson.
In the final episode of the show, Patterson showed off his skills with a blue Dodge Challenger SRT Hellcat. He was able to navigate a lane-change test, an autocross burnout with no traction control, and a series of Dodge trivia questions. Patterson successfully showed off his best tire-burning and rubber-laying chops. Dodge is committed to launching an electric muscle car in 2023 with the help of Patterson, the new electric muscle car line will be labeled as E-Muscle. Patterson would share the job of highlighting the transition to the first electric Dodge muscle car. Dodge has promised to build the first electrified muscle car, it will look like a Dodge, drive like a Dodge, sound like a Dodge, and most importantly perform like a Dodge.
Dodge drives forward as a pure performance brand, offering SRT versions  in almost all of its models across the 2022 lineup. For the 2022 model year, Dodge delivers the dragstrip dominating 807-horsepower Dodge Challenger SRT Super Stock, the 797-horsepower Dodge Charger SRT Redeye, the most powerful and fastest mass-produced sedan in the world, and the Dodge Durango SRT 392, America's fastest, most powerful, and most capable three-row SUV. Combined, these three muscle cars make Dodge the industry's most powerful brand, offering more horsepower than any other American brand across its entire lineup. Interested in finding out more about Dodge's future plans?
Come To Southern Chrysler Jeep Dodge Ram To Test-Drive A New VehicleToday
Are you excited about getting a new car? So are we! At Southern Norfolk Chrysler Jeep Dodge, we're more than excited to help our customers, we're thrilled. Looking for a new option to buy or lease? Take a look at our newest vehicle inventory or our quality used inventory. We can help sell your current vehicle or bring it back to life like new with an online appointment at our service center. Allow our professional techs to get started on all repairs or maintenance work. 
Looking for options with any financial help, needs, or suggestions to help make paying for a vehicle easier? Apply for Auto financing. Stop by today and see what we can do for you at Southern Norfolk Chrysler Jeep Dodge right now.