A Look At One Of The Most Popular Jeep Wrangler Editions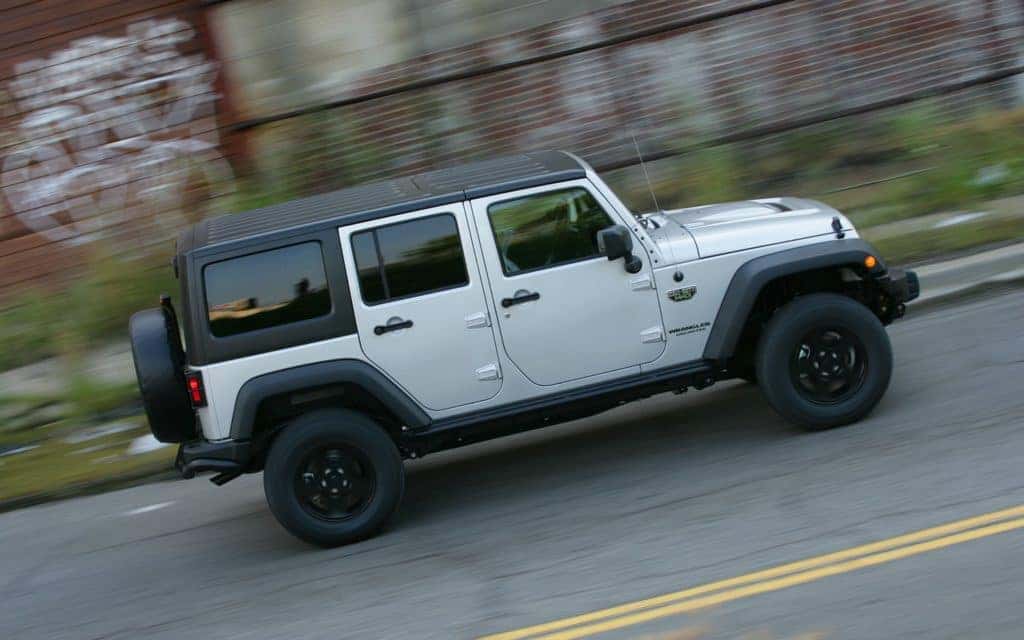 Photo credit: Jeep
The Call of Duty video game franchise was once the champion of first-person military-style shooters. Most adults today can reminisce of the times when they would jump into Call of Duty lobbies and partake in hours of fun with their friends. The franchise was so popular, that it drew the interest of Jeep executives who collaborated with Call of Duty to create special edition Jeep Wranglers with several references alluding to the iconic franchise. Now, over a decade later, Call of Duty's heyday and the special edition Jeep Wranglers are long gone. Let's take a closer examination of the beginnings of this collaboration and why they aren't still around.
To set the scene, the Jeep Wrangler was going through an evolution in the late 2000s by transitioning from the YJ and TJ Jeep Wranglers to the JK Wrangler. First introduced in 2006, the JK Jeep Wrangler was notably heavier, longer, and more powerful than its predecessors. At this time, Jeep was communicating with their customers and discovered that the majority of Wrangler owners rarely would venture off-road. Instead, the rapidly advancing digital space was where more and more people were spending their time. Seeing the writing on the wall, Jeep executives launched a collaboration with the Call of Duty franchise that brought the iconic Wrangler back to its military roots.
Starting in 2010, Jeep announced the release of the 2011 Jeep Wrangler Call of Duty: Black Ops Edition. The special edition Jeep Wrangler featured a deep black exterior paint and interior finish, matching alloy wheels, and countless Call of Duty: Black Ops insignias and easter eggs. The Black Ops edition Jeep Wrangler retailed for $30,625 for the two-door model and $33,500 for the four-door model. The collaboration was a major success, so the partnership continued the following year with Call of Duty's latest installment. In 2011, the 2012 Jeep Wrangler Call of Duty Modern Warfare 3 Special Edition rolled out with similar hype and excitement that surrounded the Black Ops Edition. The Modern Warfare 3 Wrangler opted for a polished white exterior and additional Mopar trim pieces, as well as swapping out the Black Ops logos for the more vivid green Modern Warfare 3 logo. The Modern Warfare 3 Edition Jeep Wrangler retailed for $36,495 for the two-door model and $40,070 for the four-door model.
Jeep produced 1,200 Call of Duty special edition Wranglers, 1,000 for the Black Ops variant, and 200 for the Modern Warfare 3 variant. These lucrative Wranglers retailed for $10,000 more than their respective standard model Wranglers and due to their scarcity, the Jeeps sold out instantly. Jeep capitalized on a collaboration with Call of Duty at the ideal time, as Black Ops and Modern Warfare 3 (released in 2010 and 2011) are the two best-selling titles in the franchise's history being the only ones to sell upwards of 30 million copies. Although Call of Duty is still pumping out yearly titles, unfortunately, it has experienced a steady decline in popularity and sales since the release of Modern Warfare 3 in 2011. On the other hand, the Jeep Wrangler has thrived over the last decade and shows promise in its future endeavors with the electric Jeep Wrangler 4xe plug-in hybrid.  
Come To Southern Norfolk Jeep To Test-Drive A New Jeep Today!
With nearly 80 years of Jeep capability leadership, the 2021 Jeep® Wrangler 4xe is continuing the natural evolution by creating a safer future. We're all about helping our customers enjoy their shopping experience. We have a friendly and passionate sales team that will make your buying, leasing or selling needs easy for any of our newest vehicle inventory or used inventory. We're here to help with any financial help, needs, or suggestions to help make paying for a vehicle easier. Apply for Auto financing with our assistance right now. Stop by today and see what we can do for you right now.
Don't forget we have a trained service team that can help with an online appointment to get started on all maintenance work and repairs. We look forward to helping you at Southern Norfolk Chrysler Jeep Dodge!