2022 Jeep Wrangler Joins The Big Screen In Jurassic World Dominion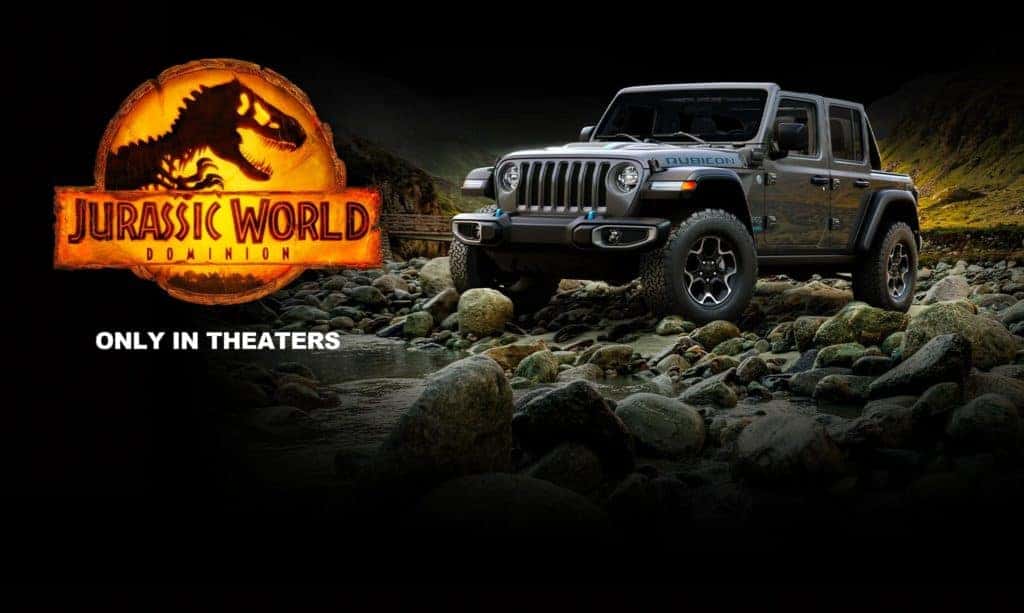 Photo credit: Jeep
Jeep partners with Universal Pictures to launch a global marketing campaign for "Jurassic World Dominion" this summer. The epic Jurassic era concludes with "Jurassic World Dominion", it has millions of thrilled fans around the globe for more than three decades and has earned $5 billion worldwide. Jeep's global campaign will be running its marketing campaign around the world including North America, Europe, the Middle East, and Asia. 
"Almost 30 years ago, moviegoers saw Dr. Ian Malcom escape danger from dinosaurs in the original 'Jurassic Park' film while riding in the back seat of a 1992 Jeep Wrangler," said Olivier Francois, global chief marketing officer of Stellantis.
The campaign in the U.S. will launch on June 1, 2022, on National Dinosaur Day. The 60-second commercial will be celebrating the arrival of Universal Pictures and Amblin Entertainment's new adventure. The video features a Jeep Wrangler 4xe owner finding a newly hatched Carnotaurus in his backyard and deciding to take care of it. The Jeep owner takes the baby dinosaur on an off-road adventure while engaging the electric mode to be on stealth mode, while causing wonder and panic on the neighborhood streets when he takes the baby Carnotaurus for daily walks and finding its mother during a camping adventure. 
"We paid homage to that iconic scene in the Jeep brand's 2018 Big Game commercial, which then featured the new Jeep Wrangler, as the next extension of our relationship with Universal Pictures. Here we are now in 2022, and we continue to see the evolution of the Jeep brand around the world with electric plug-ins, including the Jeep Wrangler 4xe and Grand Cherokee 4xe, which are quite literally charged for any adventure, this time with a four-legged passenger of a different kind riding along in the front seat," said Olivier Francois, global chief marketing officer of Stellantis.
The Jeep brand is offering its Jeep Wave members the opportunity to see the film at drive-in events in cities across the U.S. on June 8 including Miami, New York, Chicago, Detroit, and Los Angeles. The Jeep Wave is a premium owner loyalty program filled with exciting benefits and perks of being a Jeep SUV owner. The Jeep Wrangler, the Jeep Gladiator, and a vintage Grand Wagoneer can be seen in the new film. 
For 80 years, the Jeep brand has been associated with freedom, authenticity, adventure, and passion. Jeep vehicles are for dreamers and doers; those forging extraordinary, uncommon bonds between themselves and their owners because adventure is found in every Jeep vehicle's DNA. The Jeep badge stands for more than a brand. In truth, it's a badge of honor. There's only one. Jeep. 
Come To Southern Norfolk Jeep To Test-Drive A New Jeep Today!
With nearly 80 years of Jeep capability leadership, the 2021 Jeep® Wrangler 4xe is continuing the natural evolution by creating a safer future. We're all about helping our customers enjoy their shopping experience. We have a friendly and passionate sales team that will make your buying, leasing or selling needs easy for any of our newest vehicle inventory or used inventory. We're here to help with any financial help, needs, or suggestions to help make paying for a vehicle easier. Apply for Auto financing with our assistance right now. Stop by today and see what we can do for you right now.
Don't forget we have a trained service team that can help with an online appointment to get started on all maintenance work and repairs. We look forward to helping you at Southern Norfolk Chrysler Jeep Dodge!