The 2022 Jeep Wrangler Combines Electricity With 4X4 Capability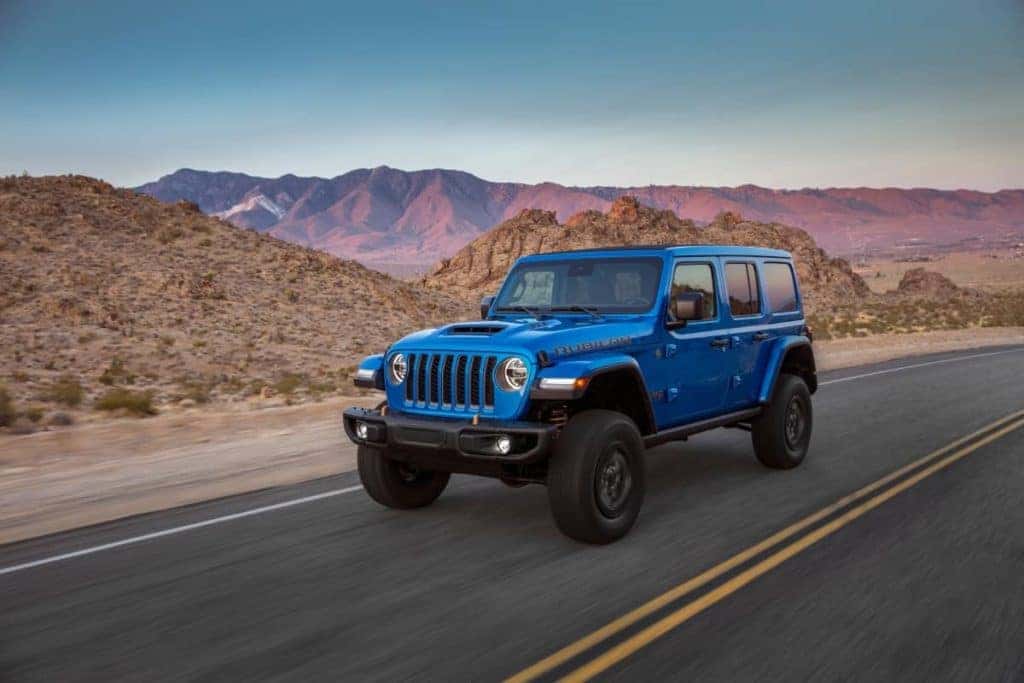 Photo credit: Jeep
The 2022 Jeep Wrangler has been an iconic 4×4 vehicle delivering unmatched off-road capability with more than 80 years of experience. When considering 4×4 engineering the Jeep Brand sets the template for all around the world. The release of the Jeep Wrangler plug-in electric hybrid trim, the 4xe has shown the world a different side of the Wrangler's  performance and efficiency. Jeep has unleashed a plug-in hybrid trim for all of its current SUV lineups. Let's take a look at the performance and interior side of the 2022 Jeep Wrangler. 
The iconic Jeep carries a few new powertrain options for the 2022 model year that consist of conventional engines and an electric hybrid. Those engines include a 2.0-liter turbocharged inline four-cylinder engine integrated with two electric motors and powered by a 400-volt battery pack (4xe). The next option is a 6.5-liter V-8 HEMI engine, a 2.0-liter turbocharged inline four-cylinder engine equipped with engine stop-start technology (ESS), and a 3.6-liter Pentastar V-6 with mild-hybrid e-Torque technology and ESS. One more engine is available but only with the four-door Wrangler, a 3.0-liter EcoDiesel engine with ESS. How will the 4xe trims work?   
Now the 2022 Jeep Wrangler 4xe trims will have the capability of tackling any trail using only electric power. New for the world of 4×4, but if any automaker can perfect the combination of electricity and 4×4 its Jeep. Carrying a 17.0-kWh battery pack is ready to provide up to 25 miles of solely electric driving. The brand states that's enough for a couple of hours of low-speed off-roading. Combining both the battery and the turbocharged four-cylinder will take the Jeep to a fuel-efficient off-road experience.
Inside the 2022 Jeep Wrangler, buyers will find the same iconic look that has traveled with the Jeep since it first debuted. The brand also adds new technology and cool features like the Sunrider Flip Top for Hardtop. The Sunrider Flip Top for Hardtop offers a front-row soft top that quickly and easily flips back for an enhanced open-air driving experience. Jeep offers buyers the option of including just the essentials or the option to come packed with all of the brand's modern infotainment technology. The 2022 Wrangler continues to impress and meet all expectations, ready to test-drive a Jeep?  
Come To Southern Norfolk Jeep To Test-Drive A New Jeep Today!
With nearly 80 years of Jeep capability leadership, the 2021 Jeep® Wrangler 4xe is continuing the natural evolution by creating a safer future. We're all about helping our customers enjoy their shopping experience. We have a friendly and passionate sales team that will make your buying, leasing or selling needs easy for any of our newest vehicle inventory or used inventory. We're here to help with any financial help, needs, or suggestions to help make paying for a vehicle easier. Apply for Auto financing with our assistance right now. Stop by today and see what we can do for you right now.
Don't forget we have a trained service team that can help with an online appointment to get started on all maintenance work and repairs. We look forward to helping you at Southern Norfolk Chrysler Jeep Dodge!