Ram Hints At Joining The Electric Movement With New Trademark Filed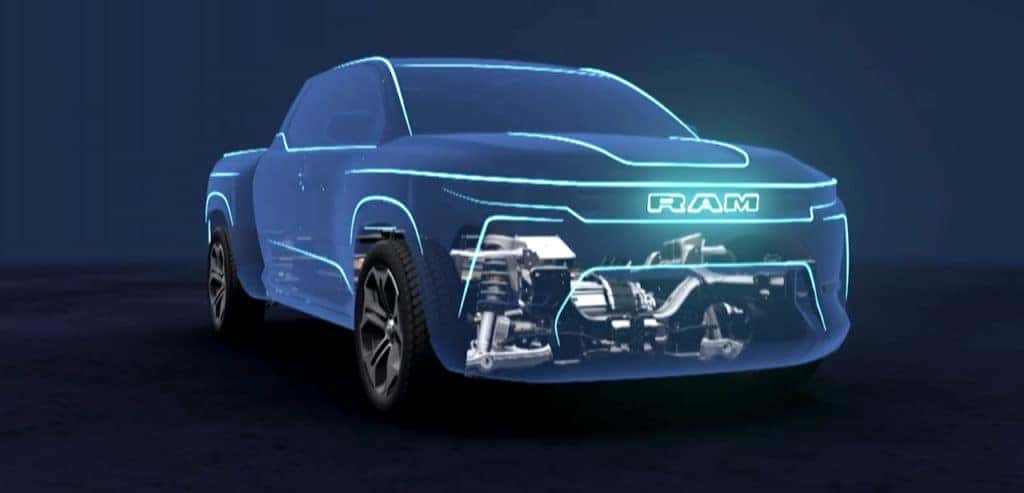 Photo credit: Ram
Rumors have been spreading since Ram recently filed for a trademark under the Stellantis group at the US Patent and Trademark Office (USPTO). It seems to be a clue as to what Ram will be naming their first electric pickup truck in its lineup. The electric 1500 may or may not use the trademark that was recently filed, but it's highly probable since electrification is inevitable. As of now the trademark application has been accepted by the trademark office but has yet to be assigned for inspection. If Ram decides to go electric, buyers can expect all of its models to convert, maybe even the monstrous 2022 RAM 1500 TRX.
The trademark filed was named "REVOLUTION", which was filed on January 27, 2022, and was discovered by CarBuzz. The trademark application indicates that the name will be used for motor vehicles, specifically trucks. In a presentation last year Stellantis announced that the company had confirmed that it will be introducing a battery electric vehicle (BEV) version of the Ram 1500. Mike Koval, Ram CEO announced that in 2024 the production of the electric Ram truck will commence. With the help from all of its cousin brands under Stellantis, Ram will climb to the top quickly with an easier merge than most companies go through.    
Ram may be late to start the production of electric vehicles to join the EV race, but Koval said that the company is "not following in the footsteps of our competitors". The company has not given full details about the electric 1500 other than the shadowing teasers that have taken the internet by storm. Even though some details may be expected to change, you can see an illuminated badge, narrow lighting elements, large grille, and a slim aerodynamic cabin. The Ram 1500 BEV or "Revolution" as it has been dubbed is set to compete against Silverado EV, Ford F-150 Lightning, GMC Hummer EV, Rivian R1T, and the Cyber Truck by Tesla. Ram has produced the world's fastest truck to ever exist with high-performance Ram1500 TRX.                                                                                                                                                                                                                                                                                                                                                                                                                                                                                                                                                                                                                                               
The 2022 RAM 1500 TRX comes equipped with a supercharged V-8 that is capable of generating 702 horsepower and goes from 0-60 in just 3.7 seconds. The Revolution trademark could possibly manufacture an electric version of the TRX. Unfortunately, all these ideas are just rumors since the automaker has yet to release an official statement. Fans across the world are on the edge of their seats while we all wait for more news from the automaker. In the end, the image of trucks as bulky lumbering, gas-guzzling workhorse trucks will become REVOLUTIONARY eco-friendly machines that will serve for generations to come. Interested in finding out more about Ram's lineup?
Come To Southern Chrysler Jeep Dodge Ram To Test-Drive A New VehicleToday!
Are you excited about getting a new car? So are we! At Southern Norfolk Chrysler Jeep Dodge, we're more than excited to help our customers, we're thrilled. Looking for a new option to buy or lease? Take a look at our newest vehicle inventory or our quality used inventory. We can help sell your current vehicle or bring it back to life like new with an online appointment at our service center. Allow our professional techs to get started on all repairs or maintenance work. 
Looking for options with any financial help, needs, or suggestions to help make paying for a vehicle easier? Apply for Auto financing. Stop by today and see what we can do for you at Southern Norfolk Chrysler Jeep Dodge right now.