LEGO Group Launch New LEGO Dodge Speed Champions Building Set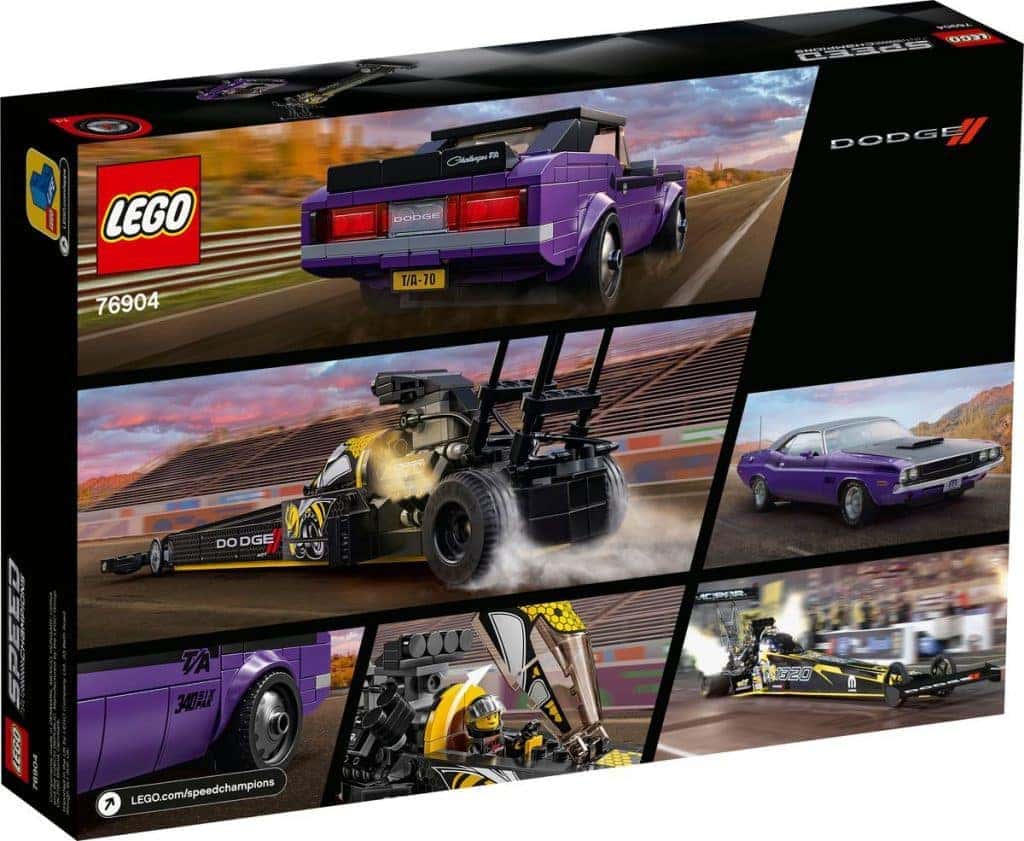 Photo credit: LEGO
The American muscle-car automaker Dodge is known for manufacturing the most powerful and iconic vehicles ever. Unleashing some of the most powerful vehicles on the market today with the Dodge Charger and Dodge Challenger, and let us not forget, the 2021 Dodge Durango SRT Hellcat which happens to be the most powerful SUV ever made in the world.
Dodge and the LEGO Group have announced another collaboration on a second LEGO Speed Champions Building set. The set will include two prestigious vehicles, the first being the 1970 Dodge Challenger T/A, the second is the Mopar Dodge//SRT Top Fuel Dragster. The 1970 Dodge Challenger T/A is the first purple vehicle in the LEGO Speed Champions series, LEGO first collaborated with Dodge back in January 2019 releasing the 2018 Dodge Challenger SRT Demon and the 1970 Dodge Charger R/T Champions building set.    
"In 2021, we are extremely excited to reteam with Dodge and expand the Speed Champions 8W Vehicle Collection even further by including new vehicle types and building experiences, for the first time, that appeal to vehicle fans of all ages," said Christopher Stamp, LEGO Design Lead
"Owning, or aspiring to own, a Dodge muscle car is as much about the lifestyle of joining the Brotherhood of Muscle as it is about the vehicle purchase," said Tim Kuniskis, Dodge Brand Chief Executive Officer – Stellantis. "As a result, our brand enthusiasts are passionate about all things Dodge, including the latest cool collectibles. So, following the success of the Dodge 2018 LEGO Speed Champion building set, fans will now be able to build and show off not only the first-ever 8-inch-wide (8W) muscle car but also the first-ever Plum Crazy 1970 Dodge Challenger T/A, along with an incredibly detailed 13½-long Top Fuel Dragster." 
The new building set is packed with realistic details, LEGO has included box art of their real-life counterparts of the 1970 Dodge Challenger T/A as well as the Top Fuel Dragster to compare the LEGO creations with the real-life machines.
The set comes with 627 LEGO pieces, the Mopar Dodge//SRT Top Fuel Dragster is over 4 inches high and 13.5 inches long, the Dodge Challenger T/A is over 2 inches high and 5 inches long. In addition to both models inside the Speed Champions set comes one female Top Fuel Dragster driver in a Dodge race suit, one male Challenger driver in Dodge-branded casual clothing.
As Dodge continues to provide top-line performance vehicles, enthusiasts will continue to collect any and all memorabilia as they can get their hands on. Interested in test driving one of the most powerful vehicles on the market? Visit us at Southern Norfolk Chrysler Jeep Dodge and allow us to provide you with excellent service.                           
Come To Southern Chrysler Jeep Dodge To Test-Drive A New DodgeToday!
Are you excited about getting a new car? So are we! At Southern Norfolk Chrysler Jeep Dodge, we're more than excited to help our customers, we're thrilled. Looking for a new option to buy or lease? Take a look at our newest vehicle inventory or our quality used inventory. We can help sell your current vehicle or bring it back to life like new with an online appointment at our service center. Allow our professional techs to get started on all repairs or maintenance work. Looking for options with any financial help, needs, or suggestions to help make paying for a vehicle easier? Apply for Auto financing. Stop by today and see what we can do for you at Southern Norfolk Chrysler Jeep Dodge right now.