Jeep Promises Fully Electric Models In Every SUV Segment By 2025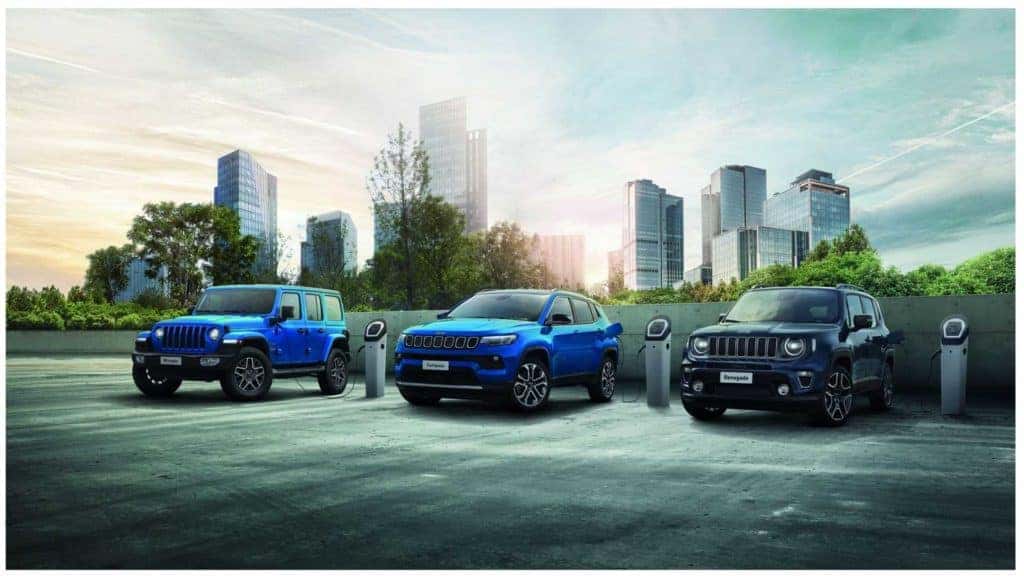 Photo credit: Jeep
Jeep uses Stellantis EV day 2021 to pledge it will offer a "zero-emission, fully electric" 4xe model in every single segment of its SUV lineup by 2025. The automaker also expects that electric vehicles will make up 70% of the total sales. Unfortunately, Jeep has left fans to wonder what will come releasing no details about the future electrified lineup. Although the company gave fans the first official look at the 2022 Grand Cherokee 4xe plug-in hybrid, rumor has it that the new Grand Cherokee will share the same gasoline-electric powertrain as the 2021 Jeep Wrangler 4xe. Jeep celebrates its 80th anniversary by laying the plans out to expand at full speed into an emission-free future.
"We're celebrating our 80th anniversary by continuing to move upward and forward," said Christian Meunier, Jeep Brand Chief Executive Officer. "We're expanding our portfolio into new segments, with the three-row Jeep Grand Cherokee L, while setting a strong foothold in the premium SUV market, with our all-new Wagoneer and Grand Wagoneer. Next in our exciting global product pipeline is the introduction of the all-new Jeep Grand Cherokee, which will be equipped, for the first time, with plug-in-hybrid 4xe technology. We are fully committed towards a vision of a zero-emission future, and by 2025 we will be offering a zero-emission fully electric Jeep 4xe in every SUV segment".
To celebrate its anniversary and to honor the zero-emission vision, Jeep posted on the Jeep brand YouTube channel the 80th Anniversary version of the Jeep Life Electrified video. The video first debuted during the 2021 Stellantis' EV Day event. The video showcases the unique nature of the electrification of the jeep brand through a couple's love story, intertwining Jeep brand vehicles, future technology, and the Jeep global community to establish a promise for a brighter future ahead. Jeep promises the 4xe model for the whole SUV lineup including the Jeep Compass, and Jeep Renegade. The Jeep CEO is committed to pushing the brand to an electric future while maintaining its legendary off-road capabilities.
"We are committed to make Jeep the greenest and most exciting SUV brand. The electrification of the Jeep lineup will allow commuters to travel solely on electric power, delivering an efficient and fun on-road experience and offering an ability to enjoy even more off-road capability in nearly complete silence," said Meunier.
Come To Southern Norfolk Jeep To Test-Drive A New Jeep Today!
With nearly 80 years of Jeep capability leadership, the 2021 Jeep® Wrangler 4xe is continuing the natural evolution by creating a safer future. We're all about helping our customers enjoy their shopping experience. We have a friendly and passionate sales team that will make your buying, leasing or selling needs easy for any of our newest vehicle inventory or used inventory. We're here to help with any financial help, needs, or suggestions to help make paying for a vehicle easier. Apply for Auto financing with our assistance right now. Stop by today and see what we can do for you right now.
Don't forget we have a trained service team that can help with an online appointment to get started on all maintenance work and repairs. We look forward to helping you at Southern Norfolk Chrysler Jeep Dodge!