Jeep Collaborates with Razor Unveiling The New Jeep Razor RX200 Electric Scooter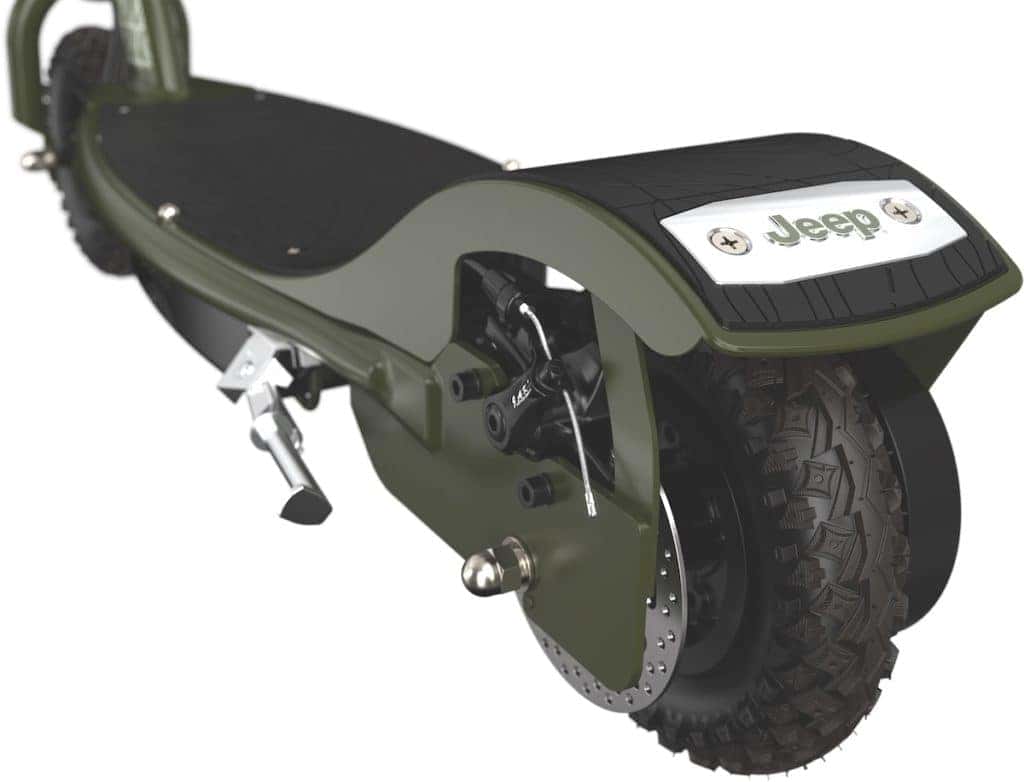 Photo credit: Jeep
Are you ready to go two-wheeling? Meet the all-new Razor Jeep RX200 scooter, with a touch of the Jeep brand's 4×4 capability. Razor released its new electric scooter, the Jeep RX200, in collaboration with the Jeep brand as it celebrates its progress into the electric era. The Jeep RX200 is a Jeep-inspired electric scooter made for an adventure like its vehicles do for families around the world. The new electric scooter has the iconic cool army green color and it's styled with a finely crafted and engineered body that delivers a one-of-a-kind ride. Razor is no stranger to scooters. Razor has been a global leader in scooters since 2000 and sold over 15 million electric scooters. The Jeep brand partnered with Razor and designed a scooter to go off-road like its SUVs. 
"Razor is always looking for creative ways to excite our riders and provide an exhilarating adventure. We are thrilled to collaborate with the iconic Jeep brand to create the Razor Jeep RX200, which is powerful enough for the off-road capability to go explore the outdoors." By Jim Wagner, Razor Scooters President.
The Jeep RX200 comes equipped with a powerful 200-watt motor that allows you to ride in any terrain, it can be used on trails, irregular paths, urban areas, while enjoying a smooth ride at a speed up to 12 mph. It has a rechargeable 24-volt battery system that will allow up to 40 minutes of ride time on a single charge with a comfortable standing platform. The RX200 features a twist-grip throttle and a hand-controlled rear disc brake to allow the rider a more responsive speed control during their adventure. The wide 8 inches air-filled heavy-duty off-road tires provide extra cushion for any rides and can have a go at any rough surfaces for you to explore the outdoors. 
"Our collaboration with Razor to introduce its new electric scooter is a natural extension for the Jeep brand's licensing portfolio," said Kim Adams House, head of licensing and merchandising of all brands for Stellantis.  
Jeep has always been known for its iconic 4×4 capability that has lead the auto nation for over 80 years, but its newest model is a 1×2, Jeep RX200, and it is now on sale priced at $499.99. Enjoy the Off-road life while maintaining a sturdy durable fun safe drive at an affordable price. The Jeep RX200 is purpose-built for an adventure and has remained loyal to the spirit of the brand DNA "Go Anywhere. Do Anything". Interested in finding out more about other Jeep brand ventures?
 Come To Southern Norfolk Jeep To Test-Drive A New Jeep Today!
With nearly 80 years of Jeep capability leadership, the 2021 Jeep® Wrangler 4xe is continuing the natural evolution by creating a safer future. We're all about helping our customers enjoy their shopping experience. We have a friendly and passionate sales team that will make your buying, leasing or selling needs easy for any of our newest vehicle inventory or used inventory. We're here to help with any financial help, needs, or suggestions to help make paying for a vehicle easier. Apply for Auto financing with our assistance right now. Stop by today and see what we can do for you right now.
Don't forget we have a trained service team that can help with an online appointment to get started on all maintenance work and repairs. We look forward to helping you at Southern Norfolk Chrysler Jeep Dodge!