The President Takes The 2021 Jeep Wrangler 4xe For A Spin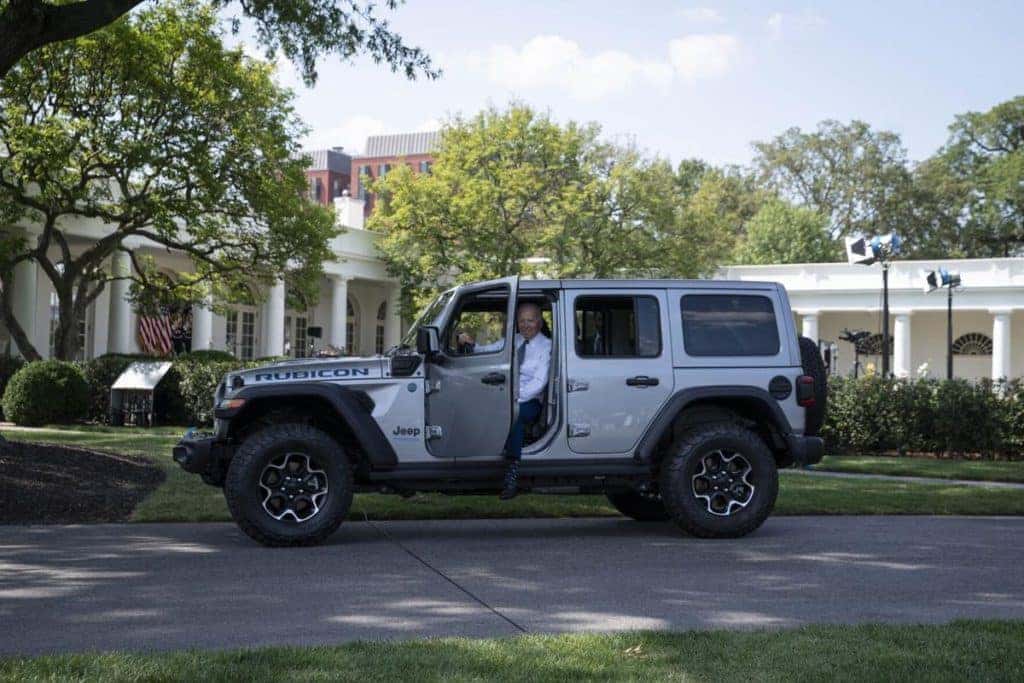 Photo credit: Jeep
Jeep has stunned everyone in the world with its all-new 2021 Jeep Wrangler 4xe, including the United States President Joe Biden. During the pre-event meeting to review logistics for President Biden's official news conference about new clean car goals. Surprising everyone attending the event, the President voiced his interest in test-driving one of the Detroit Three vehicles that were placed for display. As President Biden voiced his interest in driving one of the vehicles, Mark Stewart who is rarely in the spotlight shouted "Keys are in the Wrangler". Leading to millions if not billions of dollars in exposure on live TV from outside the White House, Jeep has been focused on pushing its electric plug-in hybrid 4xe trim. Additionally, Jeep has extended its 4xe trim to all of its current SUV line up including the 2022 Grand Cherokee 4xe and 2022 Jeep Renegade.   
As President Biden jumped into the 2021 Jeep Wrangler 4xe, one of the Jeep's brand leading vehicles pushing electrification across the nation. Biden began to drive around the white house sending the press into a chase to capture shots of the test drive. The President has a vision in which America will aim to have half of the new passenger cars and light trucks sold in the country to produce zero tailpipe emissions in less than a decade. Many automakers have joined the fight shifting towards electric vehicles also to help reach the goal. Now the best-selling plug-in hybrid in the U.S. in the second quarter, the all-new 2021 Jeep Wrangler 4ex blends electric power with the ultimate 4×4 capability. Let's take a look at what the Jeep brand has packed into the all-new 2021 Jeep Wrangler 4xe.    
Jeep now offers the next level of the legendary rugged Jeep Wrangler, offering all of the same classic off-road features with a nearly silent, zero-emission 2.0-liter four-cylinder turbocharged engine. The engine features two electric motors that pump out 375 horsepower matched with 470 lb-ft of instant torque. A TorqueFlite eight-speed automatic transmission allows for smooth shifting and perfect timing to push the 4xe from 0-60 in just 6.0 seconds. The 2021 Jeep Wrangler offers an estimated 50 miles per gallon equivalent resulting in a total driving range of 400miles. The 2021 Jeep Wrangler is the most proficient eco-friendly off-road vehicle on the market today. Interested in driving the all-new 2021 Jeep Wrangler?   
Come To Southern Norfolk Jeep To Test-Drive A New Jeep Today!
With nearly 80 years of Jeep capability leadership, the 2021 Jeep® Wrangler 4xe is continuing the natural evolution by creating a safer future. We're all about helping our customers enjoy their shopping experience. We have a friendly and passionate sales team that will make your buying, leasing or selling needs easy for any of our newest vehicle inventory or used inventory. We're here to help with any financial help, needs, or suggestions to help make paying for a vehicle easier. Apply for Auto financing with our assistance right now. Stop by today and see what we can do for you right now.
Don't forget we have a trained service team that can help with an online appointment to get started on all maintenance work and repairs. We look forward to helping you at Southern Norfolk Chrysler Jeep Dodge!