Dodge Announces The Production of The World's First Electric Muscle Car In 2024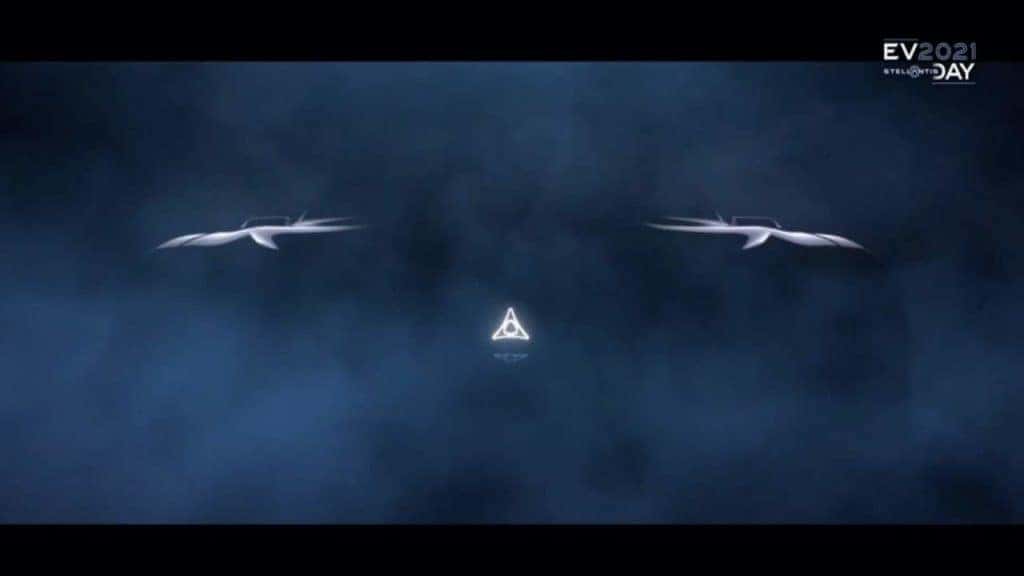 Photo credit: Dodge
Dodge has stunned the world once again, announcing that the automaker will soon offer a fully electric muscle car under what it's calling eMuscle. Dodge uses Stellantis' EV Day to announce the world's first electric muscle car, along with an all-new tagline: "Tear Up the Streets….Not the Planet." The Detroit-based automaker gave fans a peek at what the front of the vehicle might look like, with a hint of the infamous Dodge Challenger or Dodge charger. Unfortunately, enthusiasts were left to wonder if the new vehicle would take more traits from the Charger or Challenger. 
The teaser images have retro-inspired styling cues, with a fastback roofline and LED lighting showing a square front like that of the 1969 Dodge Charger. The front of the vehicle sports a long white LED light bar, with a lighted emblem right in the center of the grille. The car is to be built on the STLA Large platform, one of four of the Stellantis battery electric vehicle platforms. The vehicle will have the ability to go from 0-60 in a time as low as 2 seconds and will carry a range of up to 500 miles per full charge. The automaker also hinted at a maximum power output of as high as 886 horsepower courtesy of a pair of 330-kilowatt electric motors.  
Dodge's message states that they have reached the limit of what they can pump out of internal combustion engines. Therefore, Dodge will have to embrace the electrification era and simply find ways of creating the most powerfully electric muscle car. The new electric muscle car carries a triangular emblem in front with the color blue and is also found in the rear but in red. The same style of the Fratzog badge from the 1962 through 1976 Dodges, let's take a look at what the newest 2021 versions of the Challenger and Charger offer.  
The 2021 Dodge Charger was built to generate excitement. The powerful four-door sedan holds a bold design with an aggressive stance. Dodge offers many different powertrain options but one still rules the streets. The 2021 Dodge Charger SRT Hellcat widebody, capable of producing 717 horsepower with 650 lb-ft of torque is what muscles are all about. The 2021 Charger brings a new Standard TorqueFlite eight-speed automatic transmission paired to a 3.6-liter Pentastar V6 engine standard on all trims. The 2021 Dodge Charger starts at $29,995 MSRP (Plus destination fee) and will feature seven different trim levels. The Charger remains the only four-door muscle car on the market, Dodge does an amazing job of providing a vehicle with immense horsepower and durability.  
The current 2021 Dodge Challenger continues to keep the same muscle-like style blended with the incredible V8 options. The high-performance drive roars down the streets serving as a thrill for both drivers and passengers. Naturally compelling to those looking for a thrill on their daily drive of a dominant muscle car, Dodge takes it a step further offering their powerful SRT Super Stock trim capable of producing an impressive 807 horsepower. The 2021 Dodge Challenger has a starting MSRP of $28,295 (Plus destination fee), while a range of various trims offered allows buyers to have the option of upgrading with additional packages to uniquely customize their 2021 Dodge Challenger to fit their needs.    
Come To Southern Chrysler Jeep Dodge To Test-Drive A New VehicleToday!
Are you excited about getting a new car? So are we! At Southern Norfolk Chrysler Jeep Dodge, we're more than excited to help our customers, we're thrilled. Looking for a new option to buy or lease? Take a look at our newest vehicle inventory or our quality used inventory. We can help sell your current vehicle or bring it back to life like new with an online appointment at our service center. Allow our professional techs to get started on all repairs or maintenance work. 
Looking for options with any financial help, needs, or suggestions to help make paying for a vehicle easier? Apply for Auto financing. Stop by today and see what we can do for you at Southern Norfolk Chrysler Jeep Dodge right now.