New JEEP Brand-New 2020 Jeep Cherokee near Norfolk, VA for Sale in Norfolk, VA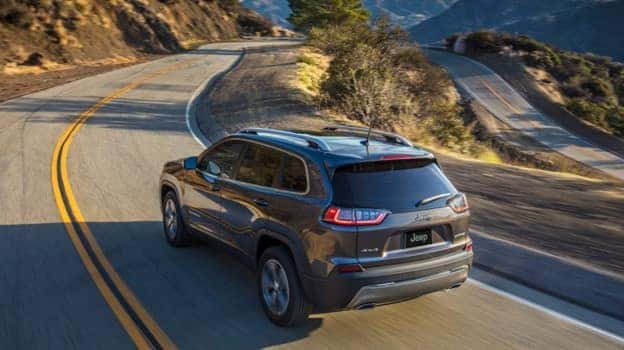 We know you've been waiting for this and we are so excited to finally announce that the 2020 Jeep Cherokee near Norfolk, VA is here! The 2020 Jeep Cherokee is redesigned for the new year and it has tons of new features to offer drivers in Norfolk, VA. The Cherokee is a style icon, without sacrificing practicality. Let's take a closer look at some of the features.
Exterior
Starting with the exterior design of the 2020 Jeep Cherokee near Norfolk, VA, you'll see that some of the features stand out from other vehicles in its class. For instance, consider the following key features of the 2020 Jeep Cherokee:
Hands-Free Power Liftgate
LED Headlamps
Tire Fill Alert
Windshield Wiper De-Icer
When you're on the road, you need your 2020 Jeep Cherokee to be prepared to handle different road conditions and different weather, so all of these features are extremely important when you consider your next vehicle near Norfolk, VA.
Look Inside
Take a look at the interior of the 2020 Jeep Cherokee and you'll find that you're not disappointed. The interior style matches the exterior design and complements the Cherokee's exceptional capabilities. You'll be sure to remain comfortable throughout you whole ride in the 2020 Cherokee, whether that's a commute to work or a weekend road trip. Look at all the interior has to offer:
Heated and Ventilated Front Seats
Dual-Zone Climate Control
Soft-touch Nappa leather trim
Heated Steering Wheel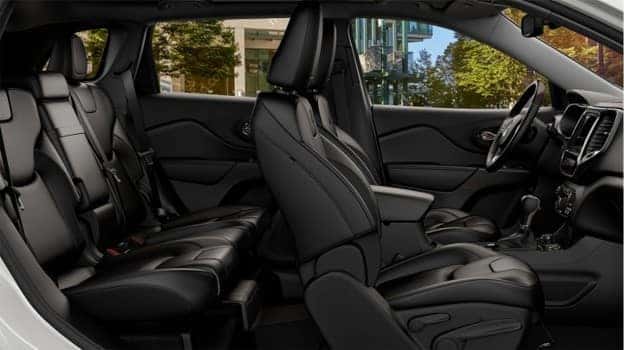 More than Capable
The 2020 Jeep Cherokee proved its capabilities and earned its Trail Rating® title. The Cherokee proved its capabilities in the five key areas of the Trail Rated testing: traction, ground clearance, maneuverability, articulation and water fording. When you look at each aspect, you can see how the Cherokee outperforms other vehicles in its class, allowing drivers to steer around and go over obstacles as needed on any road condition.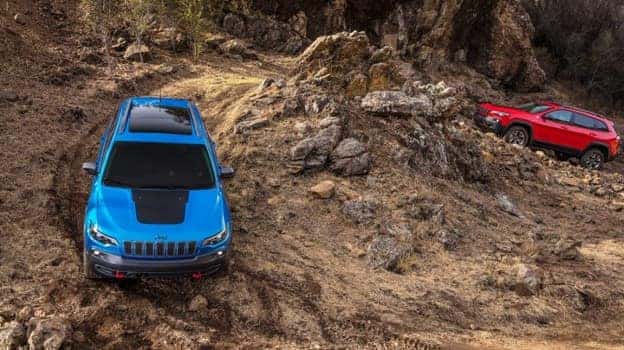 Efficiency
It's pretty clear that the 2020 Jeep Cherokee is capable of what you need in a powerful, performance-focused SUV, but what about efficiency? You might think that Jeep would have to sacrifice efficiency in this vehicle, you on the contraryow with a choice of three engines, you get amazing efficiency as well as a power boost. Choose from the following engines:
4L Tigershark® MultiAir® 2 engine
Available 3.2L Pentastar® V6 engine
Available 2.0L Turbo engine
Best-in-Class Towing
Do you need to tow a boat or a trailer? When you choose the 2020 Jeep Cherokee near Norfolk, VA, you don't have to worry about your load being too heavy. The 2020 Jeep Cherokee can tow a maximum of 4,500 lb when equipped with the 3.2L Pentastar® V6 engine. You can rest assured that all your equipment is coming with you on your next road trip.
Plugged into the Technology
We know that when you're setting off on a long trip in your 2020 Jeep Cherokee, both you and your passengers will want to be entertained. That's why the 2020 Jeep Cherokee offers extra technology like the Alpine® Premium Audio System, featuring a 12-channel 506-watt amplifier, nine speakers and an 8-inch subwoofer to keep everyone entertained for your road trips.
Visit Southern Jeep Norfolk
Visit your local Jeep dealership in Norfolk, VA, Southern Dodge Chrysler Jeep Ram, where you can talk to an experienced sales rep and find out more about the 2020 Jeep Cherokee, as well as our other new inventory.
48

Matching Vehicles

Found

VIN: 1C4PJLCB1LD503303

Stock #: F20045

Location:
Southern Dodge Chrysler Jeep RAM
2747 N Military Hwy, Norfolk, VA 23518

Blue 2020 Jeep Cherokee Latitude FWD 9-Speed 948TE Automatic 2.4L I4 22/31 City/Highway MPG All customers may not qualify for all rebates listed, see ...

[ more ]

Location:
Southern Dodge Chrysler Jeep RAM
2747 N Military Hwy, Norfolk, VA 23518

Blue 2020 Jeep Cherokee Latitude FWD 9-Speed 948TE Automatic 2.4L I4 22/31 City/Highway MPG All customers may not qualify for all rebates listed, see dealer for details, Price includes: $1750 - 2020 National Retail Consumer Cash 20CL1. Exp. 04/14/2020

VIN: 1C4PJLCBXLD503302

Stock #: F20047

Location:
Southern Dodge Chrysler Jeep RAM
2747 N Military Hwy, Norfolk, VA 23518

Blue 2020 Jeep Cherokee Latitude FWD 9-Speed 948TE Automatic 2.4L I4 22/31 City/Highway MPG All customers may not qualify for all rebates listed, see ...

[ more ]

Location:
Southern Dodge Chrysler Jeep RAM
2747 N Military Hwy, Norfolk, VA 23518

Blue 2020 Jeep Cherokee Latitude FWD 9-Speed 948TE Automatic 2.4L I4 22/31 City/Highway MPG All customers may not qualify for all rebates listed, see dealer for details, Price includes: $1750 - 2020 National Retail Consumer Cash 20CL1. Exp. 04/14/2020

VIN: 1C4PJLCB7LD503306

Stock #: F20046

Location:
Southern Dodge Chrysler Jeep RAM
2747 N Military Hwy, Norfolk, VA 23518

Bright White Clearcoat 2020 Jeep Cherokee Latitude FWD 9-Speed 948TE Automatic 2.4L I4 22/31 City/Highway MPG All customers may not qualify for all re ...

[ more ]

Location:
Southern Dodge Chrysler Jeep RAM
2747 N Military Hwy, Norfolk, VA 23518

Bright White Clearcoat 2020 Jeep Cherokee Latitude FWD 9-Speed 948TE Automatic 2.4L I4 22/31 City/Highway MPG All customers may not qualify for all rebates listed, see dealer for details, Price includes: $1750 - 2020 National Retail Consumer Cash 20CL1. Exp. 04/14/2020

VIN: 1C4PJLCB9LD577293

Stock #: A20190

Location:
Southern Dodge Chrysler Jeep RAM
2747 N Military Hwy, Norfolk, VA 23518

Billet Silver Metallic 2020 Jeep Cherokee Latitude FWD 9-Speed 948TE Automatic 2.4L I4 22/31 City/Highway MPG All customers may not qualify for all re ...

[ more ]

Location:
Southern Dodge Chrysler Jeep RAM
2747 N Military Hwy, Norfolk, VA 23518

Billet Silver Metallic 2020 Jeep Cherokee Latitude FWD 9-Speed 948TE Automatic 2.4L I4 22/31 City/Highway MPG All customers may not qualify for all rebates listed, see dealer for details, Price includes: $1750 - 2020 National Retail Consumer Cash 20CL1. Exp. 04/14/2020

VIN: 1C4PJLCB2LD571528

Stock #: A20155

Location:
Southern Dodge Chrysler Jeep RAM
2747 N Military Hwy, Norfolk, VA 23518

Velvet 2020 Jeep Cherokee Latitude FWD 9-Speed 948TE Automatic 2.4L I4 22/31 City/Highway MPG All customers may not qualify for all rebates listed, s ...

[ more ]

Location:
Southern Dodge Chrysler Jeep RAM
2747 N Military Hwy, Norfolk, VA 23518

Velvet 2020 Jeep Cherokee Latitude FWD 9-Speed 948TE Automatic 2.4L I4 22/31 City/Highway MPG All customers may not qualify for all rebates listed, see dealer for details, Price includes: $1750 - 2020 National Retail Consumer Cash 20CL1. Exp. 04/14/2020

VIN: 1C4PJLCB5LD606420

Stock #: A20227

Location:
Southern Dodge Chrysler Jeep RAM
2747 N Military Hwy, Norfolk, VA 23518

Diamond Black 2020 Jeep Cherokee Latitude FWD 9-Speed 948TE Automatic 2.4L I4 22/31 City/Highway MPG All customers may not qualify for all rebates lis ...

[ more ]

Location:
Southern Dodge Chrysler Jeep RAM
2747 N Military Hwy, Norfolk, VA 23518

Diamond Black 2020 Jeep Cherokee Latitude FWD 9-Speed 948TE Automatic 2.4L I4 22/31 City/Highway MPG All customers may not qualify for all rebates listed, see dealer for details, Price includes: $1750 - 2020 National Retail Consumer Cash 20CL1. Exp. 04/14/2020

VIN: 1C4PJLCB9LD606419

Stock #: A20230

Location:
Southern Dodge Chrysler Jeep RAM
2747 N Military Hwy, Norfolk, VA 23518

Blue 2020 Jeep Cherokee Latitude FWD 9-Speed 948TE Automatic 2.4L I4 22/31 City/Highway MPG All customers may not qualify for all rebates listed, see ...

[ more ]

Location:
Southern Dodge Chrysler Jeep RAM
2747 N Military Hwy, Norfolk, VA 23518

Blue 2020 Jeep Cherokee Latitude FWD 9-Speed 948TE Automatic 2.4L I4 22/31 City/Highway MPG All customers may not qualify for all rebates listed, see dealer for details, Price includes: $1750 - 2020 National Retail Consumer Cash 20CL1. Exp. 04/14/2020

VIN: 1C4PJLLB4LD615531

Stock #: A20275

Location:
Southern Dodge Chrysler Jeep RAM
2747 N Military Hwy, Norfolk, VA 23518

Bright White Clearcoat 2020 Jeep Cherokee Latitude Plus FWD 9-Speed 948TE Automatic 2.4L I4 22/31 City/Highway MPG All customers may not qualify for a ...

[ more ]

Location:
Southern Dodge Chrysler Jeep RAM
2747 N Military Hwy, Norfolk, VA 23518

Bright White Clearcoat 2020 Jeep Cherokee Latitude Plus FWD 9-Speed 948TE Automatic 2.4L I4 22/31 City/Highway MPG All customers may not qualify for all rebates listed, see dealer for details, Price includes: $1750 - 2020 National Retail Consumer Cash 20CL1. Exp. 04/14/2020 $500 - Mid-Atlantic BC DC/MD/VA/WV Retail Bonus Cash MACLL. Exp. 04/30/2020

VIN: 1C4PJLLB8LD610753

Stock #: A20256

Location:
Southern Dodge Chrysler Jeep RAM
2747 N Military Hwy, Norfolk, VA 23518

Crystal Metallic 2020 Jeep Cherokee Latitude Plus FWD 9-Speed 948TE Automatic 2.4L I4 22/31 City/Highway MPG All customers may not qualify for all reb ...

[ more ]

Location:
Southern Dodge Chrysler Jeep RAM
2747 N Military Hwy, Norfolk, VA 23518

Crystal Metallic 2020 Jeep Cherokee Latitude Plus FWD 9-Speed 948TE Automatic 2.4L I4 22/31 City/Highway MPG All customers may not qualify for all rebates listed, see dealer for details, Price includes: $1750 - 2020 National Retail Consumer Cash 20CL1. Exp. 04/14/2020 $500 - Mid-Atlantic BC DC/MD/VA/WV Retail Bonus Cash MACLL. Exp. 04/30/2020

VIN: 1C4PJLLB6LD610752

Stock #: A20255

Location:
Southern Dodge Chrysler Jeep RAM
2747 N Military Hwy, Norfolk, VA 23518

Billet Silver Metallic 2020 Jeep Cherokee Latitude Plus FWD 9-Speed 948TE Automatic 2.4L I4 22/31 City/Highway MPG All customers may not qualify for a ...

[ more ]

Location:
Southern Dodge Chrysler Jeep RAM
2747 N Military Hwy, Norfolk, VA 23518

Billet Silver Metallic 2020 Jeep Cherokee Latitude Plus FWD 9-Speed 948TE Automatic 2.4L I4 22/31 City/Highway MPG All customers may not qualify for all rebates listed, see dealer for details, Price includes: $1750 - 2020 National Retail Consumer Cash 20CL1. Exp. 04/14/2020 $500 - Mid-Atlantic BC DC/MD/VA/WV Retail Bonus Cash MACLL. Exp. 04/30/2020

VIN: 1C4PJLLBXLD519824

Stock #: F20072

Location:
Southern Dodge Chrysler Jeep RAM
2747 N Military Hwy, Norfolk, VA 23518

Blue 2020 Jeep Cherokee Latitude Plus FWD 9-Speed 948TE Automatic 2.4L I4 22/31 City/Highway MPG All customers may not qualify for all rebates listed, ...

[ more ]

Location:
Southern Dodge Chrysler Jeep RAM
2747 N Military Hwy, Norfolk, VA 23518

Blue 2020 Jeep Cherokee Latitude Plus FWD 9-Speed 948TE Automatic 2.4L I4 22/31 City/Highway MPG All customers may not qualify for all rebates listed, see dealer for details, Price includes: $1750 - 2020 National Retail Consumer Cash 20CL1. Exp. 04/14/2020 $500 - Mid-Atlantic BC DC/MD/VA/WV Retail Bonus Cash MACLL. Exp. 04/30/2020

VIN: 1C4PJLLB1LD620296

Stock #: F20266

Location:
Southern Dodge Chrysler Jeep RAM
2747 N Military Hwy, Norfolk, VA 23518

Bright White Clearcoat 2020 Jeep Cherokee Latitude Plus FWD 9-Speed 948TE Automatic 2.4L I4 22/31 City/Highway MPG All customers may not qualify for a ...

[ more ]

Location:
Southern Dodge Chrysler Jeep RAM
2747 N Military Hwy, Norfolk, VA 23518

Bright White Clearcoat 2020 Jeep Cherokee Latitude Plus FWD 9-Speed 948TE Automatic 2.4L I4 22/31 City/Highway MPG All customers may not qualify for all rebates listed, see dealer for details, Price includes: $1750 - 2020 National Retail Consumer Cash 20CL1. Exp. 04/14/2020 $500 - Mid-Atlantic BC DC/MD/VA/WV Retail Bonus Cash MACLL. Exp. 04/30/2020

VIN: 1C4PJLLB8LD620294

Stock #: F20267

Location:
Southern Dodge Chrysler Jeep RAM
2747 N Military Hwy, Norfolk, VA 23518

Billet Silver Metallic 2020 Jeep Cherokee Latitude Plus FWD 9-Speed 948TE Automatic 2.4L I4 22/31 City/Highway MPG All customers may not qualify for a ...

[ more ]

Location:
Southern Dodge Chrysler Jeep RAM
2747 N Military Hwy, Norfolk, VA 23518

Billet Silver Metallic 2020 Jeep Cherokee Latitude Plus FWD 9-Speed 948TE Automatic 2.4L I4 22/31 City/Highway MPG All customers may not qualify for all rebates listed, see dealer for details, Price includes: $1750 - 2020 National Retail Consumer Cash 20CL1. Exp. 04/14/2020 $500 - Mid-Atlantic BC DC/MD/VA/WV Retail Bonus Cash MACLL. Exp. 04/30/2020

VIN: 1C4PJLLBXLD620295

Stock #: F20268

Location:
Southern Dodge Chrysler Jeep RAM
2747 N Military Hwy, Norfolk, VA 23518

Blue 2020 Jeep Cherokee Latitude Plus FWD 9-Speed 948TE Automatic 2.4L I4 22/31 City/Highway MPG All customers may not qualify for all rebates listed, ...

[ more ]